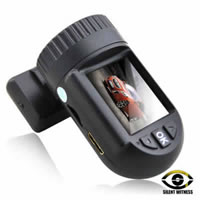 The Silent Witness SW010 forward facing Vehicle Accident Camera discreetly sits on its quick release windscreen mount continually recording your whole journey in front of you.

In case of an incident its built in G-Sensor will ring fence approximately 20 seconds of audio and 10 seconds of video before and after the incident so it won???t be overwritten. The footage being filmed is provided with a date and time stamp along with a GPS location stamp.

Key Features:

Records Sound and Video,

Full HD ,
GPS, Software - Gps logging,

Google maps and Speed,

Colour display,

supplied with 8Gb Micro SD card built in with usb reader, HDMI lead,

Video Resolution - The unit records in Full HD - 1080p - 720p.